Goa is obviously known for the extravagant beach parties, exuberant nightlife, hippie culture, and a general higher standard of living. But like all destinations, it treasures an extensive palette of wonders that are either hidden away or not talked about very much, these places to visit in Goa that has managed to accumulate a wonderful rundown from the ones who have been there.
From the hidden beaches in Goa to the breathtaking waterfalls, caves and sanctuaries, we have put together a list of these hidden gems to add to your list of 'things to do in Goa'.
Beaches:
Galgibaga Beach:
Here lies a clean paradise with glistening silver sands, lush green trees and crystal clear waters. An ideal location to get away from the parties of the Goa nightlife and opt for a quieter ambience. If these are not enough reasons to drag you down there, then know that this is one of three goan beaches where you can seasonally find Olive Turtle nests as well as hatch-lings. To reach this beach, you need to travel about 18 Km south of Canacona in South Goa.
Butterfly Beach:
When looking for hidden treasures, you know you have struck gold when you hear about a beach housing an untouched scenery, peopled by dolphins, crabs and butterflies and without any road access. As its name suggests, you have a variety of butterflies to look out for. The place is located about 37 Km away from Margao, and to get there, you could either take a boat from Palolem or Agonda, or you could hike your way there through the green forest.
Kakolem:
Kakolem is a clean and virgin beach known to showcase a stunning and picturesque beauty that can even be seen atop a nearby cliff. The empty stretch and the isolation makes it one of the most secluded beaches in Goa. The beach is located about 7 Km south of the Cabo De Rama Resort.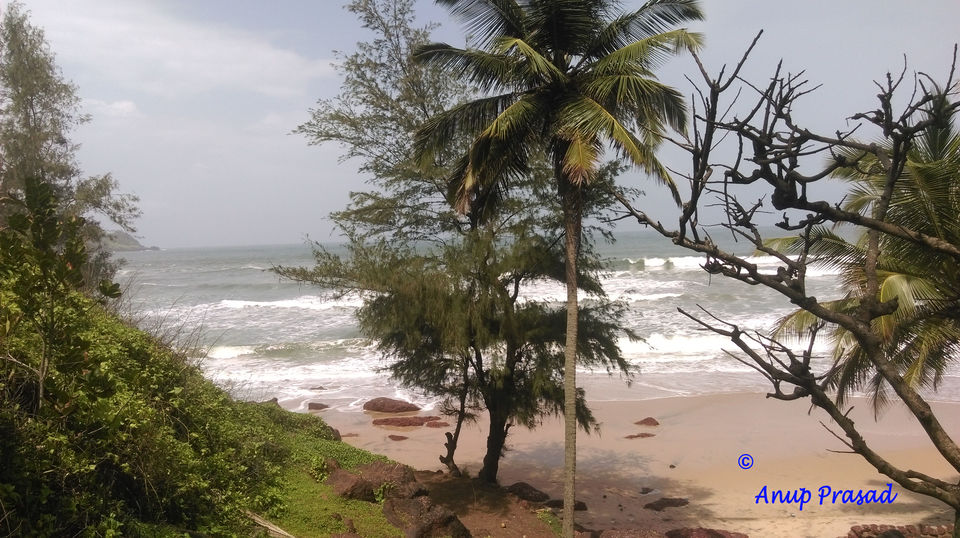 Betul Beach:
If fishing is your thing, Betul Beach is your place. This beach is essentially a fishing village with shacks that serve lip-smacking seafood delicacies and since the tourist crowd does hang around here, it is pretty quiet. Ideal for those looking for a bit of tranquillity without shunning away from civilisation. The beach is lies at about 18 Km away from Margao and to get here, you need to take the Cavelossim-Assolna ferry cross the Sal river from Mobor Beach.
Velsao beach:
Are you here to enrich your Romance? Head straight off to Velsao Beach! Imagine walking along warm shallow waters with your partner and a cool breeze smoulders your face as you pass by the palm trees on the shore, occasionally spotting a starfish. On a little exploration, you come across a lake covered in lilies. Pretty much a fairy tale isn't it? That's the Velsao beach for you, one of the best places to visit in Goa. It resides just north of the famous Majorda and Colva beaches.
Wildlife Sanctuaries:
Butterfly Conservatory of Goa:
This establishment was set up by the Government in order to conserve the species of Butterflies Native to Goa. The conservatory houses about 133 species of butterflies and is now a paradise for the nature lovers who come to visit. Going about this conservatory spotting these colourful creatures is definitely one of the best things to do in Goa.
Dr. Salim Ali Bird Sanctuary:
Indulge yourself to a visit to this amazing bird sanctuary named after the famous Ornithologist, Dr. Salim Ali. Bird-watching here is an experience that ranks among the most interesting things to do in Goa. Moreover, the Sanctuary is also known to be a winter pit-stop for Siberian migratory birds. If not for bird-watching, you could go for a bicycle ride through this sanctuary , or go for a boat ride through the beautiful mangrove forest. The sanctuary resides aboard Chorao Island and to get there, you must hop on a ferry ride from Ribandar.
Cotigao Wildlife Sanctuary:
A highly recommended sanctuary for hiking and similar activities. A trek through this sanctuary entails ponds, marshes and a population of rare flora, and a visit to this sanctuary is nothing short of an enriching experience. If you are lucky, you may even spot laughing Hyenas, Indian Wild Gaurs or even the Malabar Crested Eagle. You will find this place adorned in the Canacona district.
Lakes, Waterfalls, and caves:
Harvalem Falls:
This 70 meter high waterfall lies adorned within the lush greenery of its surrounding forest and offers the visitors the much needed privacy. The milky white waters cascading down the cliff offers a therapeutic effect to those sitting by its side, contemplating the eccentricities of life.
Rivona Caves:
These caves are one of the most fascinating places to visit in Goa. When most people talk about the Portuguese history of Goa, they are likely to miss out on the rich Buddhist history Goa hidden deep within. The Rivona Caves are said to be the seat of a Buddhist monk who meditated here, and since it overlooks the sea, you probably wouldn't mind a few hours of silence either. To can make your way to these caves from Rivona Village in South Goa.
Netravali – The Bubbling Lake:
This is one of those interesting and unique phenomenons you come across while looking for places to visit in Goa. Just stand next to it and stomp really hard and watch the water bubbling up. It is known to be quite fascinating to check out. This odd feature happens due to the methane gas that is trapped below which escapes when subject to any disturbance. The lake is located in the Sanguem District in South Goa.
Cumbarjuna Canal:
Looking for dangerous thrills? This canal flows through a mangrove forest and hosts a panel of crocodiles sunbathing on its shores. Since tourists don't usually venture out into the muddy waters to look for crocodiles, this place just hiding in plain sight for the ones brave enough to venture in.
Carambolim Lake:
To most it is just another hidden lake with not much significance attached to it. But to a birdwatcher or a photographer, this place is a gem since it showcases a variety of species, such as migratory ducks, jacanas, moorhens, pipits and wagtails harriers. It is also a well received change from what the rest of Goa offers. You can find this place while exploring Corlim in North Goa.
Other Treasures:
Chorla Ghats:
This tropical forest is a drastic yet well received change from the mainstream nightclubs in Goa. These hills are ideal for trekking, hiking and a bunch of similar activities including bird-watching and butterfly spotting. For the mountain lovers, the Chorla Ghats are a must visit among the places to visit in Goa. This lush valley is located on the Goa-Karnataka-Maharashtra border.
Pequeno Island:
This island encompasses lush green landscapes and a rocky beach which offers an amazing snorkelling experience. Being well concealed, it is, more often than not, overlooked by the tourists who pass by, making it a wonderful Picnic Spot as well. This island is located at 1 km off the coast of Baina Beach, and can be reached by the ferry.
Savoi Spice Plantations:
The Savoi Spice plantations are one of those things people don't really know about. Featuring Goan Uraks, fruit orchards, rare herbs and so much more, this spice garden is one place that must not be missed when exploring the things to do in Goa. The plantation is located in Ponda along North Goa.